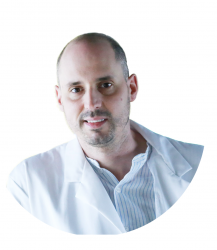 Jose Tubio | Coordinator of GENOMES & DISEASE
Head of MOBILE GENOMES
jmctubio@gmail.com


Dr. Jose Tubio (Spain, 1978) is author of more than 10 papers in the high-impact journals Science, Nature and Nature Genetics. For the last years, he has carried out his research at the forefront of cancer genomics, being involved in the discovery of new cancer genes in haematological cancers and bone cancers, the identification of new mutational mechanisms in cancer development, the characterization of the evolutionary dynamics of metastasis, and the identification of mutational processes and genes that drive transmissible cancers. Noteworthy, the research he has carried out in the field of cancer retrotransposition is changing our understanding of the role that retrotransposons play in cancer. Currently, he is holder of an ERC Starting Grant, which aims the discovery of the genetic mechanisms that drive transmissible cancers.
Jose Tubio's research focuses on the impact of structural variation in cancer development, and the genetic changes that make cancers contagious between individuals.

"The main focus of my research interests along my scientific career has been the impact of genomic structural variation (especially retrotransposition) on the function of eukaryotic genomes, and its role in disease (especially cancer). My research group is participating in the Pancancer Initiative of the International Cancer Genome Consortium (ICGC) and the Cancer Genome Atlas (TCGA), to investigate the mechanisms of coevolution between TEs and cancer. In addition, I am increasingly interested in the identification of drivers of cancer transmissibility in clonally transmissible cancers (i.e., cancers that are transmitted between individuals by direct transfer of living cancer cells)."



SELECTED PUBLICATIONS
PUBMED: 25082706; PMC: 4380235; DOI: 10.1126/science.1251343

PUBMED: 21350479; DOI: doi:10.1038/470476a

PUBMED: 25999502; PMC: 4471149; DOI: 10.1126/science.aaa6806
PUBMED: 25830880; DOI: 10.1038/nature14347

PUBMED: 24458646; PMC: 3918581; DOI: 10.1126/science.1247167

PUBMED: 24413735; PMC: 3960636; DOI: 10.1038/ng.2874

PUBMED: 23770606; PMC: 3743157; DOI: 10.1038/ng.2668

PUBMED: 21642962; PMC: 3322590; DOI: 10.1038/nature10113

PUBMED: 22158541; DOI: 10.1038/ng.1032