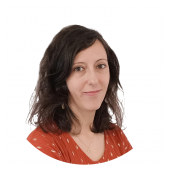 Iria Gómez Touriño, PhD | Associate Professor | Principal Investigator of the "Immunity and Small Molecules Lab"
iria.gomez.tourino@usc.es | LinkedIn | ORCID 0000-0001-6594-6110 | Twitter
Dr. Iria Gomez-Tourino (Spain, 1982) is Associate Professor of Immunology at the USC. She has been awarded several fellowships, amounting for more than 540 000€, including two prestigious Marie Sklodowska-Curie Individual fellowships (King's College London, UK, 2013-2015, and USC, Spain, 2018-2020). Dr. Gomez holds the I3 certificate on research quality, and published 15 articles in the last 10 years in the Immunology field, 86% in Q1 journals and, of those, 67% in D1, including first authorships in Nature Communications and FASEB Journal. She has recently been awarded a research project by the Spanish Ministry of Science and Innovation-Carlos III Institute of Health (2021 call). She is also very active in outreach and science communication activities.

Iria Gomez-Tourino's main research interests are (i) the identification and characterization of novel anti-inflammatory small molecules for the treatment of autoimmune diseases, and (ii) the study of mechanisms of autoreactivity underlying these pathologies.


"The immune system possesses the incredible ability of dealing with foreign threats and endogenous tumour cells while not harming self. The ability of our defences to keep this subtle equilibrium under control fully amazes me. As such, I aim to contribute to the understanding of the functioning of the immune system in health and disease, particularly when tolerance to self is breached. During the last years, I am also becoming interested in how our current way of life, where toxins, food additives and drugs are more ubiquitous than ever before, could be involved in the worrying global increase of the incidence of immune-related diseases".
Timeline
Dec 2020-present: Associate Professor of Immunology. Dpt. of Biochemistry and Molecular Biology. University of Santiago de Compostela (Spain)
Jul 2018-Sep 2020 Marie Sklodowska-Curie fellow Center for Research in Molecular Medicine and Chronic Diseases (CiMUS). University of Santiago de Compostela (Spain).
May 2017-Apr 2021 Honorary researcher Immunobiology Dpt. King's College London (UK)
May 2017-Jun 2018 Postdoctoral researcher University of Vigo (Spain)
Jun 2015-Apr 2017 Postdoctoral researcher Immunobiology Dpt. King's College London (UK)
Jun 2013-May 2015 Marie Sklodowska-Curie fellow Immunobiology Dpt. King's College London (UK)
Oct 2012-May 2013 Barrie de la Maza postdoctoral fellow Immunobiology Dpt. King's College London (UK)
Nov 2013 and Nov 2015 Visiting postdoctoral researcher DFG-Center for Regenerative Therapies, Technische Universität Dresden (Germany)
Jan 2012-Sep 2012 Postdoctoral researcher Biochemistry and Molecular Biology Dpt. University of Santiago de Compostela (Spain).
Oct 2011-Dec 2011 Postdoctoral researcher Physiology Dpt. University of Santiago de Compostela (Spain).
Sep 2007-Sep 2011 Maria Barbeito PhD fellow Biochemistry and Molecular Biology Dpt. University of Santiago de Compostela (Spain).
Oct 2008-Mar 2009 Visiting PhD student Immunology Service, Germans Trias i Pujol Institute on Health Sciences. Barcelona (Spain).
Sep 2005-Jul 2007 Masters' student (fellow) Biochemistry and Molecular Biology Dpt. University of Santiago de Compostela (Spain).
Oct 2004-Jan 2005 Undergraduate student Genetics Dpt. University of Santiago de Compostela (Spain).
Jul 2004 Pre-professional internship Panrico-Donuts (Spain)
Grants
Principal Investigator of the project "Characterization of novel small molecules with anti-inflammatory capabilities for the treatment of rheumatoid arthritis (Halt!Inflamm)", funded by the Spanish Ministry of Science and Innovation-Carlos III Institute of Health (Jan 2022-Dec 2024).
Marie Skłodowska-Curie individual fellowship, at the Center for Research in Molecular Medicine and Chronic Diseases (CiMUS), University of Santiago de Compostela, Spain (Jul 2018-Jun 2020).
Travel grants to attend the 14th and 15th Immunology of Diabetes Society congresses (Munich, Germany, Apr 2015. San Francisco, USA. Jan 2017)
Marie Curie Individual Fellowship, at the Dpt. of Immunobiology, King's College London (UK) (Jun 2013 –May 2015).
Grant to attend the 64th Nobel Laureate Meeting (Physiology or Medicine) (Jul, 2014).
Barrié de la Maza postdoctoral fellowship, awarded for 2 years for the Dpt. of Immunobiology, King's College London (Oct 2012-May 2013).
Researcher travel bursary to attend the Researcher Careers and Mobility Conference organized by the Irish Presidency of the EU to contribute to the development of the European Research Area (May 2013).
Ramón Areces postdoctoral fellowship awarded for 1 year for the Dpt. of Immunobiology, King's College London. Kindly withdrawn in favour of the Barrié de la Maza fellowship (Jun 2012).
Travel grant from the Spanish Society of Immunology to attend the European Congress of Immunology (Glasgow, Sep 2012).
María Barbeito Predoctoral fellowship from the Galician Government (December 2007-Jun 2010).
Fellowship from the Galician Government (Spain) for a 6-month predoctoral stay (6 months) (Oct 2008-Mar 2009).
Research fellowship for the 2nd year of masters'; Galician Government (Spain) (Oct 2006-Sep 2007).
Research fellowship for the 1st year of masters'; Galician Government (Spain) (Oct 2005-Sept 2006)
Selected publications (last 10 years)
Cordero OJ, (...), Gomez-Tourino I, Pego-Reigosa JM. Study of Plasma Anti-CD26 Autoantibody Levels in a Cohort of Treatment-Naïve Early Arthritis Patients. Arch Immunol Ther Exp. 2022 Mar 18;70(1):12.
Sefina Arif; Iria Gómez-Touriño ; et al. GAD-Alum immunotherapy in type 1 diabetes expands bi-functional, Th1/Th2, autoreactive CD4 T cells. Diabetologia. 2020. Jun;63(6):1186-1198.
Calviño-Sampedro C, Gomez-Tourino I , et al. (* Both authors contributed equally to this work). Naturally presented HLA class I-restricted epitopes from the neurotrophic factor S100-β are targets of the autoimmune response in type 1 diabetes. FASEB J. 2019 May;33(5):6390-6401.
Gomez-Tourino I, et al. Shorter T cell receptor beta-chain CDR3 regions in type 1 diabetes result in enhanced repertoire diversity and sharing. Nat Commun 2017 Nov 27;8(1):1792.
Brian D. Stadinski, Karthik Shekhar, Iria Gómez-Touriño, et al. Hydrophobic CDR3 residues promote the development of self-reactive T cells. Nat Immunol. 2016 Aug;17(8):946-55.
A. Das, K. Rouault-Pierre, I. Gomez-Tourino, et al. Adaptive from Innate: Human IFN-γ+CD4+ T Cells Can Arise Directly from CXCL8-Producing Recent Thymic Emigrants in Babies and Adults. J Immunol. 2017 Sep 1;199(5):1696-1705.
Cristina Calviño-Sampedro, Iria Gómez-Tourino, et al. Apportioning blame: autoreactive CD4+ and CD8+ T cells in Type 1 Diabetes. Arch Immunol Ther Exp 2017 Jan 12; 65(4):275-284.
Gomez-Tourino I, et al. T cells in type 1 diabetes: Instructors, regulators and effectors: A comprehensive review. J Autoimmun. 2016 Jan;66:7-16.
Menno van Lummel et al (contains Iria Gómez-Touriño). Discovery of an exclusive islet-peptidome presented by the highest-risk HLA-DQ8trans molecule. Diabetes. 2016 Mar;65(3):732-41.
Iria Gómez-Touriño, et al. Characterization of the autoimmune response against the nerve tissue S100β in patients with type 1 diabetes. Clinical Exp Immunol. 2015 May;180(2):207-17.
Gomez-Tourino, I. "Q&A: Francoise Barre-Sinoussi. HIV adversary". Nature. 2014 Oct 16;514(7522):S8-9.
Menno van Lummel et al (contains Iria Gómez-Touriño). Post-translational modification of HLA-DQ binding islet-autoantigens in type 1 diabetes. Diabetes. 2014 63(1):237-47.
Gómez-Touriño I, et al. Nucleofection of whole murine retinas. Cytotechnology 2013 Aug;65(4):523-32.
Gómez-Touriño I, et al. Galectin-1 synthesis in type 1 diabetes by different immune cell types: reduced synthesis by monocytes and Th1 cells. Cell Immunol. 2011; 271(2):319-28.
Gómez-Touriño I, et al. Autoantibodies to glial fibrillary acid protein and S100beta in diabetic patients. Diabet Med. Feb 2010; 27(2):246-8.



Patents



Iria Gomez-Tourino, José Manuel Brea Floriani, María Isabel Loza García. Pharmaceutical composition for its use in the treatment of inflammatory diseases. Date of application: 11/12/2020. Application number: P202031238.

Iria Gómez-Touriño, Rubén Varela Calviño: Isolated antigen peptide derived from S100-beta protein, identification method and use thereof in the prevention, treatment, diagnosis and/or monitoring of Type 1 Diabetes. Date of application: June 2011. Date of concession: 15/07/2013. Patent number ES 2394972 B2.

Iria Gómez Touriño, Rubén Varela Calviño: Use of an isolated antigenic peptide derived from protein S100-beta not united to a class II MHC molecule in the prevention, treatment, diagnosis and/or monitoring of Type 1 Diabetes. Date of application: June 2011. Date of concession: 15/07/2013. Patent number ES 2394331 B2